Last updated
Vienna - A Great Free Mac Newsreader
I have been looking around for a good Newsreader for the Mac for a while now. There are many out there on the market. Here's a quick overview
Table of contents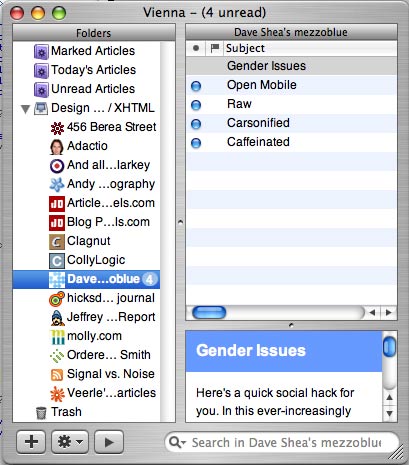 Newsfire
This looks really good and has a really good interface and includes an integrated audio player for listening to Podcasts. That's all great but I use iTunes for listening to Podcasts. Cost $17.99
Safari
The Safari web browser now comes with RSS integration. After using it for a while it is good but not really for me. Cost Free
Newsgator
This would seem to be the market leader (I don't know this). Apart from the logo this also looks like a great little client. It does everything that Newsfire does and comes in at a still reasonable price. Cost $29.95
Vienna
This wins for me. A simple uncluttered interface and an in-built browser make this a breeze. It does everything I want it to do allowing me to read stories quickly and easily. It is like the RSS reader that Tiger never had. What's more amazingly it is free. Cost Free.
Have an update or suggestion for this article? You can edit it here and send me a pull request.
Tags
Recent Posts
Listening to BBC Radio with mpv
The BBC publishes high quality 320 kbps HLS AAC streams that can be used to listen to radio from the command-line using mpv. Here are the URLs and some aliases to start listening quickly.

Vim: So long Pathogen, hello native package loading
Vim 8 added a native way to load third-party packages. This means, for me at least, there is no longer any need to use a third party plugin helper like Pathogen.

Linux and Unix more command tutorial with examples
Tutorial on using more, a UNIX and Linux command for viewing the contents of a file or files one screen at a time. Examples of viewing a file, viewing multiple files, searching using regular expressions and opening the file in a text editor.