Apple iPhone - Another small object of desire
Whilst on my travels today I came across this photo of an Apple iPod phone. Yes please is all I can say. It seems that the development is not going too well and that an initial release of Q3 2006 may be delayed until 2007.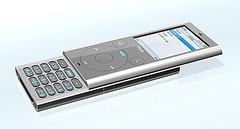 I suspect that it will be a long time before this actually makes into the public domain but if Apple can get it right this is surely going to be the next big thing.
Nokia you have been warned!
Tags
Can you help make this article better? You can edit it here and send me a pull request.
See Also