Last updated
Apple iPhone - Another small object of desire
Whilst on my travels today I came across this photo of an Apple iPod phone. Yes please is all I can say. It seems that the development is not going too well and that an initial release of Q3 2006 may be delayed until 2007.
Table of contents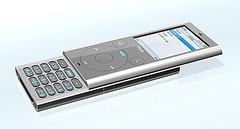 I suspect that it will be a long time before this actually makes into the public domain but if Apple can get it right this is surely going to be the next big thing.
Nokia you have been warned!
Have an update or suggestion for this article? You can edit it here and send me a pull request.
Tags
Recent Posts
Listening to BBC Radio with mpv
The BBC publishes high quality 320 kbps HLS AAC streams that can be used to listen to radio from the command-line using mpv. Here are the URLs and some aliases to start listening quickly.

Vim: So long Pathogen, hello native package loading
Vim 8 added a native way to load third-party packages. This means, for me at least, there is no longer any need to use a third party plugin helper like Pathogen.

Linux and Unix more command tutorial with examples
Tutorial on using more, a UNIX and Linux command for viewing the contents of a file or files one screen at a time. Examples of viewing a file, viewing multiple files, searching using regular expressions and opening the file in a text editor.