Last updated
Mac motifs on Windows Messenger Live design
I don't think I'll be the only one to notice that the design of Windows Messenger Live seems to be heavily influenced by Mac design even down to the OSX style motifs in the background.
Table of contents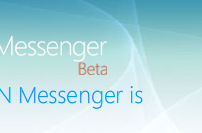 It seems a bit cheeky to me when Microsoft are as far as I know not doing a build for Apple machines.
It is commendable that Microsoft are improving User Interface Design but echoing Mac motifs is more proof that Apple got it right a long time ago!
Have an update or suggestion for this article? You can edit it here and send me a pull request.
Tags
Recent Posts
Listening to BBC Radio with mpv
The BBC publishes high quality 320 kbps HLS AAC streams that can be used to listen to radio from the command-line using mpv. Here are the URLs and some aliases to start listening quickly.

Vim: So long Pathogen, hello native package loading
Vim 8 added a native way to load third-party packages. This means, for me at least, there is no longer any need to use a third party plugin helper like Pathogen.

Linux and Unix more command tutorial with examples
Tutorial on using more, a UNIX and Linux command for viewing the contents of a file or files one screen at a time. Examples of viewing a file, viewing multiple files, searching using regular expressions and opening the file in a text editor.