Last updated
Mac motifs on Windows Messenger Live design
I don't think I'll be the only one to notice that the design of Windows Messenger Live seems to be heavily influenced by Mac design even down to the OSX style motifs in the background.
Table of contents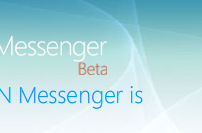 It seems a bit cheeky to me when Microsoft are as far as I know not doing a build for Apple machines.
It is commendable that Microsoft are improving User Interface Design but echoing Mac motifs is more proof that Apple got it right a long time ago!
Have an update or suggestion for this article? You can edit it here and send me a pull request.
Tags
Recent Posts
Using HashiCorp Vault with LDAP
How to use HashiCorp Vault to setup an LDAP backed secret store with read-only access for users in groups and read-write access for specific users

Linux and Unix xargs command tutorial with examples
Tutorial on using xargs, a UNIX and Linux command for building and executing command lines from standard input. Examples of cutting by character, byte position, cutting based on delimiter and how to modify the output delimiter.

Copy a file in Go
How to copy a file in Go. The ioutil package does not offer a shorthand way of copying a file. Instead the os package should be used.