Last updated
Easy image sharpening in Photoshop
Here's a simple tip I picked up to quickly sharpen images in Photoshop using the High Pass Filter.
Table of contents
Quick sharpening
Here's an image of my new desk taken with my camera phone. You can see that the quality is not great. Really it needs to be sharper. Thankfully photoshop allows a simple way to quickly sharpen images.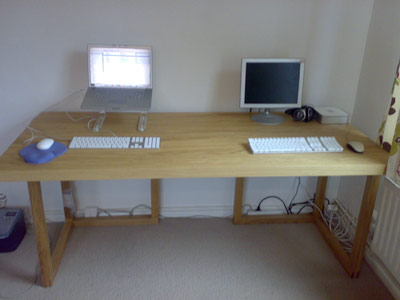 It is good practice when you are changing an image to take a copy of the layer. This way if anything goes wrong you can revert to the original. So first of all I'm duplicate the layer.
Then on the layer copy apply the High Pass filter. You'll find this under Filter > Other > High Pass. Here's what we end up with - horrible!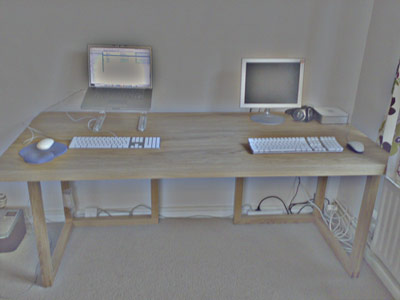 But fear not. Change the blend mode to Overlay. You'll find this option in the Layers Panel. Apply that and the image is sharpened!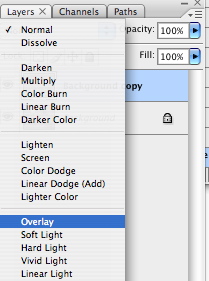 Here's the before and after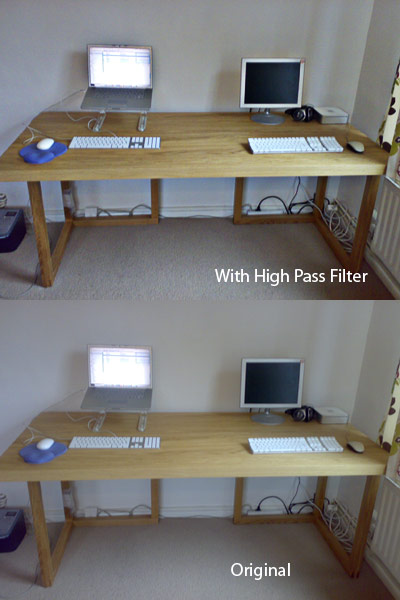 A simple tip but one I found I have already used over and over again.
Have an update or suggestion for this article? You can edit it here and send me a pull request.
Tags
Recent Posts
Listening to BBC Radio with mpv
The BBC publishes high quality 320 kbps HLS AAC streams that can be used to listen to radio from the command-line using mpv. Here are the URLs and some aliases to start listening quickly.

Vim: So long Pathogen, hello native package loading
Vim 8 added a native way to load third-party packages. This means, for me at least, there is no longer any need to use a third party plugin helper like Pathogen.

Linux and Unix more command tutorial with examples
Tutorial on using more, a UNIX and Linux command for viewing the contents of a file or files one screen at a time. Examples of viewing a file, viewing multiple files, searching using regular expressions and opening the file in a text editor.