Last updated
Techno kittens love HTML5
The kittens are jumping up and down. Why? HTML 5 offers an open set of standards for drawing animations and complex user interfaces.
Table of contents
View the demo page or download the source code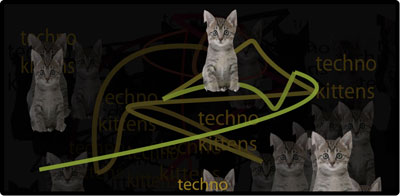 Browser Support
The latest versions of Safari, Firefox, Opera, or Chrome all support the canvas element. Internet Explorer doesn't. If you are reading this using Internet Explorer you are probably in the wrong place anyway.
Why is this good?
There are no third-party plugins like Flash or Silverlight needed.
It is made using open standards
You can view the source
Because it uses open standards machines and people will be able to easily read and understand it.
Further reading
Have an update or suggestion for this article? You can edit it here and send me a pull request.
Tags
Recent Posts
Using HashiCorp Vault with LDAP
How to use HashiCorp Vault to setup an LDAP backed secret store with read-only access for users in groups and read-write access for specific users

Linux and Unix xargs command tutorial with examples
Tutorial on using xargs, a UNIX and Linux command for building and executing command lines from standard input. Examples of cutting by character, byte position, cutting based on delimiter and how to modify the output delimiter.

Copy a file in Go
How to copy a file in Go. The ioutil package does not offer a shorthand way of copying a file. Instead the os package should be used.