Last updated
Techno kittens love HTML5
The kittens are jumping up and down. Why? HTML 5 offers an open set of standards for drawing animations and complex user interfaces.
Table of contents
View the demo page or download the source code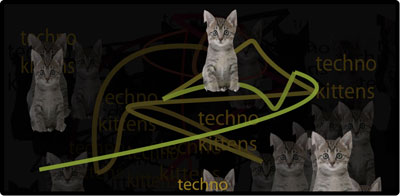 Browser Support
The latest versions of Safari, Firefox, Opera, or Chrome all support the canvas element. Internet Explorer doesn't. If you are reading this using Internet Explorer you are probably in the wrong place anyway.
Why is this good?
There are no third-party plugins like Flash or Silverlight needed.
It is made using open standards
You can view the source
Because it uses open standards machines and people will be able to easily read and understand it.
Further reading
Have an update or suggestion for this article? You can edit it here and send me a pull request.
Tags
Recent Posts
Listening to BBC Radio with mpv
The BBC publishes high quality 320 kbps HLS AAC streams that can be used to listen to radio from the command-line using mpv. Here are the URLs and some aliases to start listening quickly.

Vim: So long Pathogen, hello native package loading
Vim 8 added a native way to load third-party packages. This means, for me at least, there is no longer any need to use a third party plugin helper like Pathogen.

Linux and Unix more command tutorial with examples
Tutorial on using more, a UNIX and Linux command for viewing the contents of a file or files one screen at a time. Examples of viewing a file, viewing multiple files, searching using regular expressions and opening the file in a text editor.