Last updated
IE6 not going anywhere soon
I've been monitoring browser statistics on clients over the last few months in order to understand the effects of the IE7 forced update by Microsoft. Among corporate clients it doesn't seem to have had much effect and IE6 looks set to be around for a while.
Table of contents
The Sample
To perform the analysis I took data from two well know City of London firms. I wanted to assess IE6 usage within the corporate sector. I used Google analytics to complete this analysis. I wanted to see the effect of the Microsoft auto update to IE7 on February 12th was. Admittedly this a very small sample but I know that site visitors come from corporate environments. For this blog around 31% of visitors use IE and of that only 35% use IE6. I know that is not indicative of most of my clients so hence the analysis.
Findings
Firstly Internet Explorer is the dominant browser in the corporate environment. For the three month period IE dominates with around 88% of the market. This was much higher than I had expected.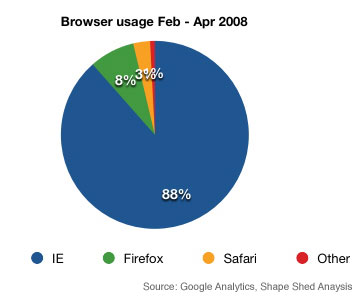 Secondly Internet Explorer 6 accounts for around half of the visitors. In three months IE6 has dropped from 53% to 49% and this has switched straight to IE7 which has risen from 35% to 39%.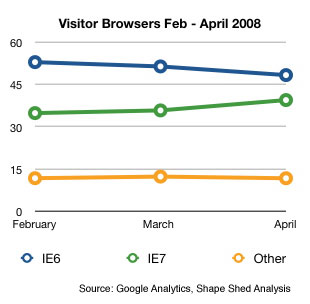 Conclusion
For corporate clients at least it seems that IE6 is going to be with us for a while. For this sample it seems that the forced update of IE7 has had no noticeable effect on browser usage. The 4% shift to IE7 can probably be accounted for from upgrades to Vista. For corporate clients it seems we will need to continue supporting IE6 for a while yet. I wonder what other people's experience of the results of the forced update are?
Have an update or suggestion for this article? You can edit it here and send me a pull request.
Tags
Recent Posts
Using HashiCorp Vault with LDAP
How to use HashiCorp Vault to setup an LDAP backed secret store with read-only access for users in groups and read-write access for specific users

Linux and Unix xargs command tutorial with examples
Tutorial on using xargs, a UNIX and Linux command for building and executing command lines from standard input. Examples of cutting by character, byte position, cutting based on delimiter and how to modify the output delimiter.

Copy a file in Go
How to copy a file in Go. The ioutil package does not offer a shorthand way of copying a file. Instead the os package should be used.