Last updated
Book Review : Beginning Javascript - Christian Heilmann
Christian Heilmann's book is a great grounding for exploring Javascript further. It covers best practice techniques and solutions to real world problems.
Table of contents
<span class="fn">George Ornbo</span>

product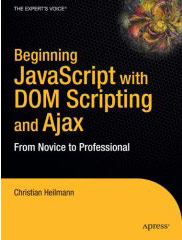 Beginning Javascript with DOM Scripting and AJAX
Author: Christian Heilmann
Published: 2006
ISBN: 1590596803

5
A while back I became resolved to teach myself Javascript, or at least to get beyond writing alert('monkey') and thinking that was enough. With good experience of XHTML and CSS I was not sure what to expect. Initially I picked up a copy of Jeremy Keith's DOM Scripting. This is a great book in itself, introducing concepts and working through a simple example. After a while though I needed more. I needed a book that wasn't written to explain cool things in simple terms, and that really taught me how to understand Javascript and use it responsibly in real world situations.
Christian Heilmann's book is just that. If you buy this book don't expect scripts that you can just pick up and use on your site. The purpose of this book is to understand Javascript, and to get to a stage where you can create unobtrusive and maintainable Javascript.
A quick look through the code examples of the book show just how well organised and commented the code is. In fact there were times when I didn't need to consult the book to understand what was going on.
This isn't a book of cool Web 2.0 javascript functions. Instead it provides a much more valuable guide to using Javascript responsibly. The book covers a great deal and you will need to invest a significant amount of time to work through all of the examples.
April 23rd, 2007
It is no coincidence that Christian Heilmann has long championed Unobtrusive Javascript. He has written extensively on and a great deal of that knowledge is distilled in this book. If DOM Scripting by Jeremy Keith is the starter, this book should be your main course. It is more detailed, will teach you how Javascript works and how to write responsible Javascript that will enhance a site responsibly.
I've already recommended this book to several back-end coders who have all commented on how good the book is. It is a get your hands dirty book so if you are not prepared to fire up the code examples and work through them then I don't recommend it. If you are then go and buy a copy!
Have an update or suggestion for this article? You can edit it here and send me a pull request.
Tags
Recent Posts
Listening to BBC Radio with mpv
The BBC publishes high quality 320 kbps HLS AAC streams that can be used to listen to radio from the command-line using mpv. Here are the URLs and some aliases to start listening quickly.

Vim: So long Pathogen, hello native package loading
Vim 8 added a native way to load third-party packages. This means, for me at least, there is no longer any need to use a third party plugin helper like Pathogen.

Linux and Unix more command tutorial with examples
Tutorial on using more, a UNIX and Linux command for viewing the contents of a file or files one screen at a time. Examples of viewing a file, viewing multiple files, searching using regular expressions and opening the file in a text editor.